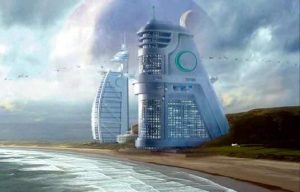 The following are questions from readers and viewers and the answers I received. Anyone interested in my work can submit questions as comments on my videos or as posts in my Expansion for Ascending Consciousness forum on Facebook. I will answer them and you will also get answers from others that may assist you. If the question is personal or you want to remain anonymous, send it as an email to enlightenedaspectproductions@gmail.com.
Question:
What about the post apocalyptic economy? What can fourth density expect in day to day life?
Response:
First of all let's dispense with the term 'post apocalyptic'. We are moving into a wonderful new world of amazing potential with possibilities limited only by our ability to imagine them. From that perspective the only apocalypse that is coming is to those drenched in polarity and self interest, and even then it only seems like one from their current vantage point of energetic separation.
Let's start with the concept of money and economy since that one is easier to answer and leads to the second question.
If we look back in time far enough we find a point in our civilized evolution where we had just evolved from being foragers. Groups had formed and had begun cultivating the land, preserving food, and generally planning for the future survival and continuity of the group. Other groups were doing the same and some focused on different skills. If you had an abundance of preserved meat because you were ardent hunters and another group had the ability to craft superior hunting weapons, you traded. The exchange rate of meat to weapons was agreed upon directly by the two groups and the barter was completed in the best interest of those involved. Obviously lugging meat, weapons, and other items around for barter was cumbersome and time consuming. This is where an intermediary device of exchange sprang into existence.
The concept that something compact could be used as a viable exchange initially hinged on its intrinsic value. There was no 'promise' of value in the item being traded. Gold, silver, and copper had value as a commodity. Everyone knew the ingots could be melted down and used to craft jewelry and other items of trade so the practice became widely accepted… and this is where polarization within consciousness steps in and begins to hijack a process meant to assist and benefit all. If you dipped a lead ingot in gold, you could trick some of the scales and get something for yourself that you did not deserve at the expense of another. As this process became known and expanded, the defrauded citizens demanded that the ingots be controlled and regulated. The very same people who first defrauded the merchants now solved the problem they created by assuming control over the exchange process. All ingots used in trade would now be stamped as reviewed and verified pure. The first coins of the realm had arrived and with them, the money changers who skimmed a portion of all trade from hard working people while contributing nothing of value to the actual survival of the groups. The important concept here is that the collective asked for, and agreed to, a world where money changers exist…
Fast forward to today and we have coins made of worthless material, paper backed by promises, and digital ingots equally as worthless to any group trying to survive in a world without electricity and modern society. The very thing the money changers initially used to come into existence -debasing the ingots- they have completely thrust upon us. What is changing however, is collective awareness. As the energies continue to rise on the planet more people have begun to see beyond the curtain and understand the inequality that money with no intrinsic value has created. The more we as a collective awaken to the realities of the rules we inherited from our predecessors, the faster we can all agree on the changes we want to make.
What will money and exchange look like after the transition into the fourth density timeline? Once you remove polarization, self interest disappears entirely. What remains is a focus upon the benefit of all. If it does not serve in raising the collective whole, it will not even be a consideration. The thought of self interest, or elevating yourself by standing on the backs of others will carry the same revulsion as the thought of burning someone at the stake does now; it was something that occurred in a darker time that we have all matured beyond.
Yes there will always be some form of intermediate exchange because it is convenient and we are comfortable with it.The difference is that it will be fair and equitable for all concerned and no one will attempt to pervert the process. This brings us to the second question.
What will fourth density day to day experience look like?
My initial response to this question is another question; What do you want it to look like? The first thing you have to accept as you enter fourth density is that you are in control. Everyone reading this dropped into this polarized third density timeline with rules that were already in play. I don't know about anyone else, but it took me a long time to make sense of them. I'm at a point now where I am comfortable conforming to the rules that keep me out of trouble while still being compassionate and helping everyone I can. I've said it before and it is worth repeating, if you don't agree with something give it as little attention as possible. Politics, taxes, war, shifty used car sales people, the news in general… personally, I ignore them all as much as I can. This is how I shield my energy and stay centered in a timeline awash in polarity and self interest.
As you enter fourth density the energy of your consciousness changes as unity takes hold and is felt throughout the collective. What happens and why are concepts explained in the second book and take several chapters to understand. The important aspect for this discussion is that the collective energy that begins to manifest must be focused and utilized for unified goals. Self serving interests naturally fall away as the energy of unity shines upon them, so shielding is no longer required. I have seen probabilities of what this looks like, but what we all actually create when we get there is up to us. Whatever it is, it will be without polarity and self interest. As crazy as that sounds when you look around at the current power struggles and inequality of our world, that is what's coming.
Yes there are some earth changes associated with the shift and I have touched on them in previous articles. Beyond a few measures that you would use to prepare for a hurricane or blizzard, there is nothing else that you can do to physically prepare. You will be right where you are supposed to be… wherever that is. Of far more importance are your preparations in consciousness. You must align the energy of your consciousness to the new energies and accept the changes they bring within you. Fourth density exists at a higher energetic octave and all of the waves and energies everyone is talking about are coming to help you align to the new construct. Hold your arms to the sky and welcome this breath of fresh air into your consciousness every time you feel it.
Fear, hatred, anger, division, self interest, are all low energy third density frequencies. You should be actively working on purging these from your consciousness as you focus upon love and unity. As you focus on the new, you will find the old energies appear less frequently. They will eventually stop being automatic responses and will become 'choices'. It is from this place of balance where you use fourth density focus to consciously choose action instead of unconsciously allowing reaction. This is the training regimen we are currently involved in as the progression toward fourth density accelerates.
So again I ask; "What do you want fourth density to look like?"
In service to all,
Todd R Deviney
Website: www.EnlightenedAspectProductions.org
YouTube: https://www.youtube.com/channel/UCB9Z44pBz8hXGaRRZvVf8sg
Buy the book and support this channel: Expansion for Ascending Consciousness
https://www.amazon.com/…/dp/1982208430/ref=tmm_pap_swatch_0…