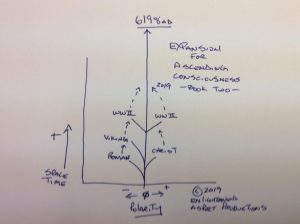 Question for the forum:
Before I ask my question I want to state I spend just as much time contemplating universal particulate and torsion mechanics as I do polarity and the event. Event ideas are just where I get stuck. So, I think I understand what I'm asking but for clarity's sake I'm writing this out. There is only the ever present now moment. It is not that the past, present, future have already happened. It is that they are always happening. Your higher aspect said in a clip that when the final unity wave pushes through it will intersect Roman times just as it intersects what we perceive as our time. So I'm thinking that the futures of negative timelines have already (from our perspective) happened with their own negative outcomes. And, will receive the final wave with ancient Rome and ourselves simultaneously. You know, I don't entirely think I know what I'm getting at, but I'm looking for confirmation of my thought process. Any words?
Response:
Torsion mechanics: Now you're on to something. In the second book, please stand by.
There are several concepts in this question that need to be addressed.
Space-in-Time:
The difference between space-in-time and time-in-space is a difficult concept when you are incarnated. As you read this you identify as a body that contains memories of everything that has occurred in your life that lead up to this moment. All of those memories you have are interactions with other consciousness; parents, friends, lovers, rivals, enemies, pets, etc. Every single one of them are consciousness embodied within the same 'space-in-time' sharing experience and co-creating this material reality. The sphere of consciousness that is you is engaged in learning and growing through the experiences of this lifetime. It does not matter if you are one fragment out of 50, the fragment that is you is only in one place at a time (The fragmentation concept is discussed in book one).
If you were a Roman in a lifetime prior to this one, you are not still a Roman while you read this. You lived that lifetime and those experiences are the foundation you have built upon in this life. This is the same concept as knowing that the experiences of your current life have shaped who you are right now. Who you have been in previous lives has a lot to do with who you are now. While there is still a Roman timeline in operation on Earth, you are not in it. It is populated with other consciousness engaged in co-creating their reality, and the history they are creating is different from what you can look back upon in this timeline.
Time-in-Space:
When your Roman life ended you disconnected from space/time and re-entered the ever present now of consciousness in time/space. When the veil is removed you understand the lessons you had hoped to learn and can 'see' all of your other previous incarnations. You then set about planning the experiences you need in your next lifetime to enhance your balance. The energy you contain at that moment as this non-corporeal entity has been gained through successive lifetimes of incarnation and the Roman life was one of them. Like a video of a great vacation, you can revisit them through memory but you cannot relive them and change them. Those experiences are forming your individual perspective of consciousness. You cannot build the penthouse of a skyscraper if the foundation is not firmly solidified.
The Pulse of Unity:
I'm getting tired of calling it "The Event" like its some circus act we are all waiting for as we sit idly in the bleachers eating popcorn. Each and every one of us has the potential to stop being spectators and start the show. All we have to do is get involved, meditate in unity consciousness and spread the light to dispel the darkness. Light removes darkness, PERIOD. You do not turn on the darkness… you allow light to be extinguished and darkness results.
Polarity has had its time as an expression. During that time it went so far into separation that it forcefully pushed against the envelope of its creation deforming it into an unintended pocket. Despite all attempts to correct this imbalance and allow the construct to continue, it attempted to further separate itself and exert control. We are all watching the slow and systematic removal of this creation from the universe. Balance is being restored and as this happens the negative web is losing creational power. The outward manifestations we are witnessing on Earth in this timeline are a result of negativity attempting to stall the energetic contraction and maintain creational ability. The same is occurring in other Earth timelines currently in play. To put it in common vernacular; negative polarity is suffocating and it knows it. It will fight all the way to its last breath, but its last breath is coming all the same.
When the parameters have been reached, a final pulse of unity will resolve any remnants of polarization within all co-creational constructs on Earth and anywhere else in the galaxy.
Understanding Timelines:
Consider that the originating timeline on Earth is currently at the year 6198 AD and is a straight line of balance with zero polarization. From that original timeline other timelines have diverged from it at various points. These divergences occur as the consciousnesses involved in the co-creational timeline begin to focus on separate realities. When enough energy is present behind the intention, a divergence occurs. Looking at the image associated with this post we see that the originating timeline goes straight up the balance line and five timelines have diverged from the original. Three went toward negative co-creational experiences and two went toward positive. These new timelines continue to be populated with consciousness desiring the experience and still exist within the present moment of now.
As a galaxy and as a planetary collective we are all moving out of polarity back toward unity. What this means is that all timelines currently experiencing polarity must move back toward unity as polarity recedes and loses potential. This can be seen as the dotted lines indicating that the trajectory of all timelines are moving back toward balance. As the polarity potentials continue to collapse, the collectives creating and experiencing the timelines have no choice but to constrain their expressions of overly positive or overly negative within the new boundaries. When all co-creational constructs get within acceptable limits, balance will return and unity will be restored.
I only listed five timelines but there are many more in play. Now consider that each one contains millions of consciousnesses making inter-connected decisions related to their future. Consciousness in ten different timelines connect to higher order consciousness and ask "When will unity return?" From this perspective, the only answer that makes sense is… When you all decide you want it.
In service to all… Todd Deviney
EnlightenedAspectProductions.org
YouTube: Enlightened Aspect Productions
Buy the book: Expansion for Ascending Consciousness