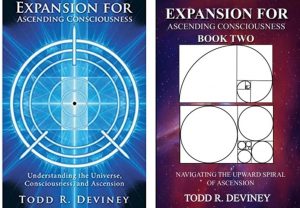 ABOUT THE EXPANSION BOOK SERIES
I am receiving emails and posts regarding the books and I try to answer every single one of them. Most are questions asking for clarification on certain concepts and thank you letters. When I think the responses might be of benefit to others, I incorporate them into the articles I post on Facebook, MeWe.Com and here on my blog.
I am not your typical author. I do not write these books or share information as a path toward fame or money. I write them for anyone who is interested in reading them in the hope they expand their perspective with the information. Whether the books become popular or continue to circulate quietly within the higher streams of the awakening community depends entirely upon the readers and whether they feel compelled to share what they have found.
If I could give the books away for free to millions of people who wanted to read them, I would do it. Universal knowledge is not a commodity owned by someone and metered out to those who can afford it. It should be shared freely. I will continue to embody this universal truth as much as our current system allows, both with the information I share and the time I spend talking and writing personally with those who wish to connect.
Those of you who are part of this group, the ones asking questions and getting expanded answers, are helping to create a compendium of work that will live long beyond our incarnations. I don't know the how or why behind that statement, all I know is I keep being told that when my eyes are itchy and my fingers are tired from writing. If what I am doing helps one consciousness, I have succeeded at my task.
The first book was written as close to an informational story as it could be considering the content. The story engaged the reader and brought new terms and concepts to their awareness. Embedded within the story are frequency activators, little vibrational nuggets that cause resonance. I let the publisher's editor take a pass at the manuscript and "The twelve" were upset when it came back a month later. I could literally see them face palming as they let out a frustrated sigh. I spent several days recreating the activators while trying to leave the needed edits.
The information and the activators in the first book lay the foundation for the second book. If you are recommending the series to someone who has never heard of it or doesn't understand the concepts of conscious density or polarized particulate spin states, they should start with the first book to fully appreciate the depth of the second. The first book also contains a helpful glossary of terms that clarifies many of the terms being used in the series and circulating among the awakened community.
When I was about halfway through the writing, I was becoming concerned at the depth of concept it was going to contain. I kept thinking that it should be more of a story like the first one because people who read books stay engaged when they follow a traditional story arc. However, as I put the finishing touches on it, I realized that there is in fact a story arc. It is not a traditional one that mimics life experience, it is a technical one that mimics the journey of consciousness within the universe. One of the things I personally found frustrating during my early exposure to new age literature was the lack of 'why and how' behind the things they suggested. You will not be frustrated by suggestions that lack solid concepts in the Expansion series.
When I finally got the author review copy of the paperback, I held it and tried to see it in the hands of readers. Would they like it? Would they find it too complicated? What I saw in my mind's eye was a worn out cover, dog eared highlighted pages, and post-it flags sticking out.
What this showed me is that these books should not be read once and forgotten. When a sentence or paragraph jumps out at you or you feel something when you read it, highlight it and mark the page so you can come back to it. Do this through the entire second book and when you finish, compare and read all of the highlighted portions. When you do this what you will find is a book within a book, written just for you. You should do this with the first book also and cross compare. Then you should share what you experience on one of the group platforms.
One of the things I noticed on the MeWe site is the chat function for the group. Readers have found it to be the perfect place to share without the need to scroll comments in posts on Facebook. If you want to get active in real time with like minded people, I suggest checking into the Expansion group on MeWe:
Thank you to all who have joined me along this journey of awakening and exploration. I love you all. The contributions you are making to the progress of this work are just as important, or more so, than that of the scribe. I am a humble messenger sharing with all who care to listen.