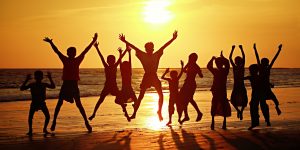 LIVE YOUR LIFE ON YOUR TERMS
Hey Todd,
It's getting pretty nasty in the 3D world. I can see how people are choosing division like crazy right now, and that's the part that's starting to scare me. The calls for unity are hollow at best, and in some cases downright…
As a kid of a guy who escaped the Hungarian revolution back in 56, the old patterns and playbooks are there.
How far is this going to be allowed to play out? If this path continues, I see camps/gulags and other horrible things that I was warned as a child to look out for.
Maybe I should just tune out for a while.
ANSWER:
The easiest single sentence response I can offer to the above question is this.
, "If you are watching any type of 'News' to keep up with current events and it is making you feel uneasy, turn it off."
Think back to when you were a teenager. What was important to you and how much of a world view did you require? For me, my happiness revolved around a few friends, a girlfriend and what we were going to do for fun once the necessities were finished. The necessities at the time were getting decent grades in school, keeping my parents happy, and working for a little spending money. Once those were done it was all about the fun. This was before the days of a constant connection to a stream of information in your pocket that distracts you from living life on your terms.
If you are familiar with the Roman empire and the political scene 2000 years ago (History channel has a bunch of documentaries available) you can almost overlay what we are witnessing now upon documented occurrences from that era and they fit perfectly. Nothing has changed. Empires have risen and fallen, ideologies have come and go, and yet the same tactics continue to be used. At the core of this repeating cycle is the lynchpin that allows it all to continue, the ability to lie and conceal your true motives from others.
What happens when you can no longer lie? How much of the old repeating cycle will survive once everyone can figuratively see your nose grow or your pants catch on fire when you are attempting to lie and deceive? How would that simple shift change the political landscape of world interaction? What if we add an energetic connectivity between consciousness to this that makes everyone empathetic to the plight of everyone else? Sounds pretty far fetched as you peer out into the ocean of deception that currently exists, but this is a component of the shift we are currently engaged in.
I am not listening to the news because from my perspective, none of this recycling of old patterns matters and will not change the end result. As I said in a prior post, the current turmoil is the "churn" at the top of a barrel where polarity is being flushed out. It looks horrible because we have been horrible to each other during a time when the darkness concealed our actions. Now that the light has been (literally) turned on, all of our dark deeds are being revealed. We can choose to recoil in disgust and point fingers at the current players, but the truth is that we have all been swapping roles throughout lifetimes. Let me step off the soapbox for a minute and tell you, there are some very dark entities that are still here and are causing much of what we are watching. When I do open the curtains and briefly look out at the planetary landscape my first thought is, "Bring on the wave and get these consciousnesses off the planet and the help they require."
Sadly, no one is asking me my opinion of when the cleansing should occur, or it would have already happened. Since I am not on the decision committee, staying plugged in and upset about current events does not benefit me. I am not, and do not want to be, a prophet or predictor of the future. There are points I can see in the distance, but I can't see the path that takes me/us there. This has proven to be quite frustrating in my personal life because when I reach the future point I saw, the path I took to get there has shifted my perspective of what I expected. Anyone speaking in absolutes either knows a lot more than me, or is guessing. Imagine trying to predict what 7 billion people are going to do along a path toward a future point. The wave/shift however is not a prediction, it is a universal decree. It WILL occur.
Will things get worse or better from here as we move toward that shift? The talk of gulags and camps has been circulating for many years. I just don't see this being allowed to happen again, not now, not with the energy washing across the planet and the awakening that is occurring. The darkness is losing its grip and it is trying furiously to recapture energetic potential. It is always darkest just before the dawn and the sun is coming up on our beautiful little planet. The decision has been made.
In a session back in 2017 I was told this would all be over between 2021 to 2022. What that means exactly, I don't know. Will the wave/shift occur during this time or something else that removes the ability to lie and deceive? No one knows the scenery along the path we are collectively creating to this marker, but we are going there all the same. What we do have to lighten our spirits is an awful lot of positive historical corroboration. Even the most revised religious texts talk of the meek inheriting the earth, swords being turned into plowshares, and a golden age of compassion and unity. Disconnect from anything that is keeping you from being happy in your own day to day reality as you walk along the path. Being happy and in joy is the way forward. You can find happiness anywhere if you are looking for it.
It all depends upon what you are looking for.
Todd R Deviney
www,enlightenedaspectproductions.org